Archive for November, 2011
Workers' Compensation law is highly specialized. If you or someone you know has been injured on the job contact me for a free consultation. Please do not hesitate call me at 201-598-5019 or email me at newjerseylawyernow@gmail.com.All parties in a Workers' Compensation (WC) case have significant responsibilities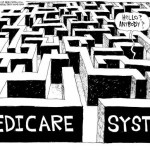 under the Medicare Secondary Payer (MSP) laws to protect Medicare's interests when resolving WC cases that include future medical expenses. The recommended method to protect Medicare's interests is a Workers' Compensation Medicare Set-aside Arrangement (WCMSA), which allocates a portion of the WC settlement for future medical expenses. The amount of the set aside is determined on a case-by-case basis and should be reviewed by CMS, when appropriate. Once the  CMS determined set aside amount is exhausted and accurately accounted for to CMS, Medicare will agree to pay primary for future Medicare covered expenses related to the WC injury.
Settlements Entered Into Prior to the July 23, 2001 ARA Letter Concerning WC Commutation of Future Benefits
(Ref: 7/23/01 Memo)
The CMS will treat WC cases that were settled prior to the issuance of the July 23, 2001 ARA letter concerning WC Commutation of Future Benefits in the same manner as those settled after the review threshold guidelines were established. This will be done regardless of when the settlement actually occurred. However, a reopening of claims (see 42 C.F.R. 405.750 and 405.841) that Medicare previously denied for these individuals will not be granted, nor will the CMS change any decisions already made with respect to settlements which pre-date July 23, 2001.
Additional Information: When the CMS issued the July 23, 2001 ARA letter, it established review thresholds for WC cases settled by injured individuals who are not yet Medicare beneficiaries. This was done in order to organize and prioritize workloads for its ROs and to convey to its ROs that it is not in Medicare's best interests to review WC settlements that do not meet the review thresholds.
CMS Review Threshold
It is not in Medicare's best interest to review every WC settlement nationwide in order to protect Medicare's interests per 42 CFR 411.46. (Ref: 7/23/01 Memo Q1(c)) A WCMSA is not necessary when resolution of the WC claim leaves the medical aspects of the claim open.
A WCMSA may be submitted to CMS for review in the following situations:
The claimant is currently a Medicare beneficiary and the total settlement amount is greater than $25,000; OR
The claimant has a "reasonable expectation" of Medicare enrollment within 30 months of the settlement date and the anticipated total settlement amount for future medical expenses and disability/lost wages over the life or duration of the settlement agreement is expected to be greater than $250,000.
Workers' Compensation law is highly specialized. If you or someone you know has been injured on the job contact me for a free consultation. Please do not hesitate to call me at 201-598-5019 or email me at newjerseylawyernow@gmail.com.